NAJI A. HADDAD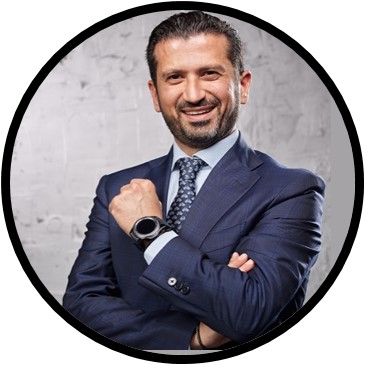 Naji A. Haddad
Financial Planner
Naji Haddad, Lebanese Financial Advisor, is a self-taught financial professional determined to make real transformations in people's lives by giving them access to a more solid tomorrow. After studying Economics & Financial Management at CNAM-ISAE, Lebanon, Haddad kicked off his career in the banking sector before realizing that his true passion lies in offering reliable and thorough financial advice to individuals on securing their life and their families' future.
Shifting to financial advisory, Haddad started working on developing his professional and personal skills by consulting with top coaches, doing nonstop research, reading books and attending worldwide training workshops and seminars in order to know the ins and outs of the industry.
An exceptional self-motivator and a great believer in success-by-choice, Haddad soon learned about an association called "Million Dollar Round Table (MDRT) ®", which is a global, independent association with more than 72,000 of the world's leading life insurance and financial services professionals from more than 500 companies in 70 nations and territories. The Premier Association of Financial Professionals®, MDRT® aims at upgrading the performance of insurance agents and financial professionals following a general observation that many of them were unprofessional and lacked essential work ethic or talent. MDRT® members institute only 1% of qualified professionals who work in the global financial and life insurance industry. Haddad became privileged elite who gets exclusive access to the MDRT® Annual Meetings held in leading countries like the U.S., Canada, and Australia.
To Haddad, joining the association was his chance at professional stardom. Thus, he set his mind on becoming a member and worked hard for several years to qualify. Finally, his efforts paid off in 2008, as he officially became an MDRT® member and attended his first MDRT® global meeting where he was inspired to become the next big MDRT® speaker, the likes of Tony Gordon and Solomon Hicks by standing on the industry's number one world stage.
For twelve long years, Haddad accepted volunteering jobs for the MDRT®& MDRT® Foundation to enhance his global network. During this time, he learned that "living is giving". He soon began to actively contribute and raise funds to benefit global associations and help as many people as possible.
Haddad's remarkable efforts were rewarded in 2019, as he was selected one of the main MDRT® speakers to stand in front of a huge crowd, 8000 People at the Global Meeting in Sydney, Australia. He explained the vitality of having a clear vision and constant perseverance to be able to achieve great results. To him, the starting point is not what really counts. It is the end result that actually matters.
Today, Naji is not only an MDRT® member, but he is also Company Chair, Country Chair, and Zone Chair that participates in global conferences across 28 countries.
In parallel with pursuing and achieving his global dream, Haddad established "Legacy Builders", the first consultancy firm in EMEA, aimed at helping people plan for their future and harvest a better society , Following the motto "Live with Dignity and Leave a Legacy®".
Haddad's ambitions were still far from ceasing. After visiting several international insurance events, he decided to place Lebanon on the global insurance map by organizing a yearly Lebanese Insurance Summit of international standards which he named Beirut Life Insurance Summit (BLIS). Gradually gaining acclaim, the event vows to allocate its proceeds in aiding a family whose breadwinner had passed away or been inflicted with a long-term handicap leaving his family to struggle financially in the absence of an insurance cover. Recently, the event benefited SOS Children's Villages Lebanon.
Today, Haddad continues to explore and extend the industry's boundaries by introducing the valuable business and CSR initiatives, the last of which was the establishment of the Lebanese chapter of the Money & Culture Foundation (M&C Foundation) which has been active around Europe for more than a decade. The association aims at raising awareness on the role a life insurance plays in planning and securing a person's future and emphasizing how important it is for families to have backup plans.
The M&C Foundation also educates life insurance agents, advisors, and insurance companies by highlighting the honorability of selling insurance policies. To Haddad, making money is good, achieving exceptional results is great, but nothing is more important than delivering a check to a client.
Armed with two decades of experience and valuable industry experience, Haddad has delivered financial backup to 800 families so far by helping alleviate their financial and emotional burdens during difficult times. Clients have become friends. Friends have become a family who considers Naji a financial doctor whose work ethic is beyond exemplary.
Haddad believes in genuinely helping and guiding others overcome their financial ordeals by offering them customized financial plans that guarantee them a secure life where dreams could blossom. Naji is a distinguished and goal-oriented achiever who always aims high, commits to excellence, and never takes no for an answer.
Away from work, Naji is a passionate traveler and biker who enjoys self-improvement, nature, and fitness.

Naji Haddad
Financial Planner | MDRT Middle East / Africa Zone Chair | BLIS Founder I
Life Happens Middle East Ambassador I GAMA International Ambassador I

Phone: +961 1 502352
Mobile: +961 3 411552
UAE: +971 50 4115051