RAMY A. TORBEY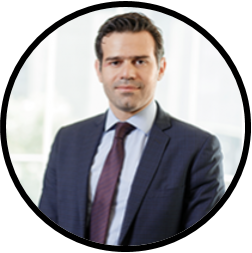 Ramy A. Torbey
Corporate and Tax Attorney
Practice Areas
Banking & Finance, Technology, Mergers & Acquisitions, Project Finance, Taxation, Commercial Transactions, Corporate, Insurance & Reinsurance, Dispute Resolution, Labor & Employment, Real Estate & Construction.

Experience:

Ramy is the Chairman of the Eptalex Verein. He is the Managing Partner of its Beirut office: Aziz Torbey Law Firm founded in 1973 and Partner in its Dubai office: MEG Legal Services established since 2009.

Ramy advises financial institutions, holding companies, and both national and international businesses across various sectors. His practice encompasses a broad array of corporate tax issues, structured finance transactions, joint ventures, and cross border projects. His business clients are spread across industries such as banking, technology, credit card companies and payment gateways, infrastructure contractors, construction, building equipment and supplies, energy, manufacturing, hospitality, and F&B. He makes himself available to clients in both our Beirut and Dubai offices seamlessly.

Ramy has played a pivotal role in Eptalex's program of rapid internationalization. He puts a lot of efforts in setting Eptalex's expansion procedures and strategies.

With more than 18 years of experience, he has managed international acquisitions and reorganized the corporate structures of banks, manufacturing plants, cement factories, technology companies, touristic ventures, and other enterprises. He regularly advises financial institutions and other regulated entities on complex regulatory and compliance issues and day-to-day operations.

Ramy Torbey is praised for his 'business and legal acumen and flexibility with clients' - The Legal500

Additionally, The IFLR highly regarded Ramy for possessing a strong transactional record and for earning his client's trust due to his expertise in domestic and international business Law.

"Excellent work, excellent personality. He does what he says he will."
"Provides quick responses, instant transfer of opinions, and clarity."
"Knowledgeable lawyer; quick and accurate to respond"
-IFLR1000-

Ramy has contributed to several publications on topics like mergers and acquisitions, securities, hedge funds, corporate governance, energy, information technology, and Alternative Dispute Resolution. He has also given lectures and trainings on subjects such as business registration and protection, Sharia compliant projects (Islamic finance), taxes, ADR, and Corporate Social Responsibility in Lebanon, the Gulf, and Europe.

Ramy is currently a board member and legal advisor to a number of local and international groups, companies and NGOs. He served as the Lebanese Legal Expert for a European Commission ADR project in the Middle-East and North Africa, implemented by an international consortium led by the ADR Center in Italy from 2005 until 2008. He is also an appointed member of the Information Technology and Oil and Gas Committees at the Beirut Bar Association.

Ramy joined the Beirut Bar Association in 2002.
You may reach him at:
+961 3 333 785
[email protected]
www.eptalex.com