ROLAND M. AOUN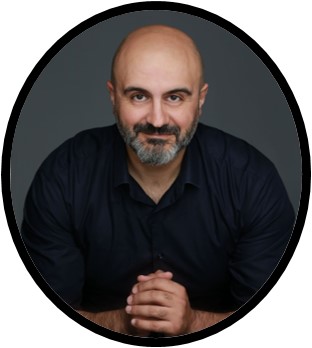 Roland M. Aoun
Marketing Consultant
Roland Aoun is a seasoned marketer with an inspirational story. After many successful years of being the Health, Fitness, and Recreational Manager at Saint Joseph University (USJ) and independent personal trainer, he decided to turn his life around by choosing to follow his real passion: Marketing.

A firm believer in the many powers of marketing, Aoun focused on developing his academic, professional, and personal skills to become the best marketing expert he could be in record times. Soon, he was on a mission to carve himself a new career path from scratch. This challenge awakened the warrior-entrepreneur in him, putting his dauntless spirit to the test..

As years went by, Aoun alternated several marketing and sales leadership positions in well-reputed firms across a variety of fields in Lebanon. In parallel, and with his industry knowledge, experience, and achievements growing by the day, he started playing an increasingly important role as a Marketing Consultant and influential Marketing Lecturer. Holder of a Master in Marketing & Communication (MSM), from the prestigious École Supérieure des Affaires (ESA) in Beirut, and a Postgraduate Diploma in Digital Marketing from the Digital Marketing Institute in Ireland, Aoun began delivering focused marketing and sales trainings and workshops and soon became a reputable guest speaker on marketing, digital marketing, and sales topics at seminars and conferences. He is also a certified Guerilla Marketing Coach.

In 2015, he founded Blue Grapes Marketing; a boutique consulting firm specialized in outsourced marketing management services and digital marketing. In addition to being Blue Grapes' Managing Director, he is the go-to consultant for renowned small to medium-size organizations and businesspeople on all sorts of marketing projects.

Today, Aoun is a Marketing Specialist with a focus on strategic and digital marketing. Over the past decade, he has assisted more than 100 companies in turning marketing strategies into successful sales stories across a multitude of sectors including but not limited to: Training and Consulting, Higher Education, Sports Management, Retail, Insurance, Healthcare, Security, Food & Beverage, Hospitality, and Tourism and Travel.

As a trainer and instructor, Aoun introduced Digital Marketing as a structured academic course in three Lebanese universities, in addition to developing the Master in Digital Marketing Program at the Antonine University in Lebanon. He is also one of the leading consultants and coaches at SMART ESA, a startup accelerator in Beirut, dedicated to supporting startups and entrepreneurship. He is also a marketing consultant at the Information Technology Authority (ITA) in the Sultanate of Oman.
You may reach him at:
+961 3 920 241
+961 76 125 555
[email protected]
www.bluegrapesmarketin.com